About 1,000 officers in Britain's largest police force are currently suspended or on restricted duties as bosses try to cull corrupt and incompetent staff.
Metropolitan Police Deputy Assistant Commissioner Stuart Cundy said it will take years to get rid of officers who have breached standards or failed vetting, amid a clean-up following a series of disturbing scandals.
About 60 officers could face the sack each month over at least the next two years, with about 30 facing misconduct proceedings and 30 gross incompetence hearings, he told journalists.
A series of reviews have been carried out including of officers who have faced previous allegations of domestic or sexual violence, as well as sweeps of the police national computer and database for concerning information.
The Met has faced a series of harrowing scandals, including serving armed officer Wayne Couzens, who raped and murdered Sarah Everard, and David Carrick, who was unmasked as a serial rapist.
Mr Cundy told journalists: "This is going to take one, two or more years to root out those who are corrupt."
Currently, of the Met's workforce of about 34,000 officers, 201 are suspended and about 860 are on restricted duties.
Mr Cundy said: "If you add those two figures together, that's over 1,000 police officers and that's nearly the size of a small police force in other places in the country. It is a significant number."
In the wake of Carrick's life sentence for dozens of sexual offences, 1,600 cases were reviewed where officers had faced allegations of domestic or sexual violence over the past 10 years but no action was taken.
There are currently about 450 live investigations ongoing into the cases that were reviewed.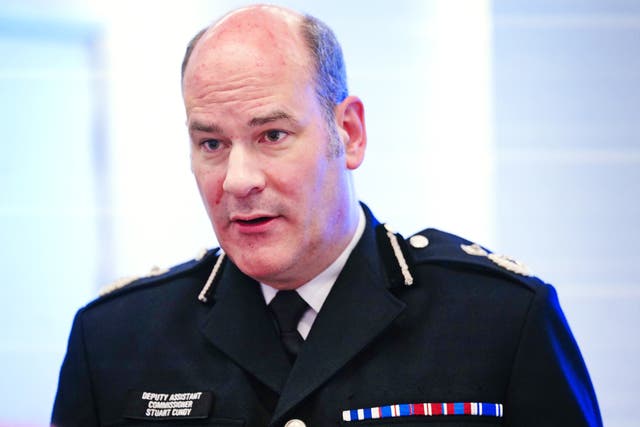 The Met has also given figures about disciplinary processes, including:
– 100 officers have been sacked for gross misconduct in the past year, up by 66% on the normal rate.
– 201 officers are currently suspended, up from 69 in September last year.
– 275 are awaiting a gross misconduct hearing, a significant proportion of which involved alleged violence against women and girls, compared with 136 last year.
– The number of reports from the public and officers of alleged misconduct has doubled.
The force has also checked all officers against records on the police national computer, uncovering 11 cases which were subject to further assessment and five are now gross misconduct investigations.
Details of all Met employees, both civilian staff and police, were also checked against intelligence records on the Police National Database.
Fourteen are under further investigation for potential gross misconduct, with more due to be added.
The most serious of all the cases reviewed involved rape allegations.
On Monday Home Secretary Suella Braverman announced plans to make it easier for police chiefs to sack rogue officers, in a written ministerial statement to the Commons.
These include bringing in a presumption that those found to have committed gross misconduct will be sacked, and making sure officers who fail vetting can be dismissed.
Conviction for certain offences including sexual crimes will automatically mean gross misconduct, and responsibility for chairing misconduct hearings will return to chief officers rather than independent legally qualified chairmen.